Discover more from Shift the Conversation
Striking the match on our embedded ways of thinking. By Martha Williams & John Scilipote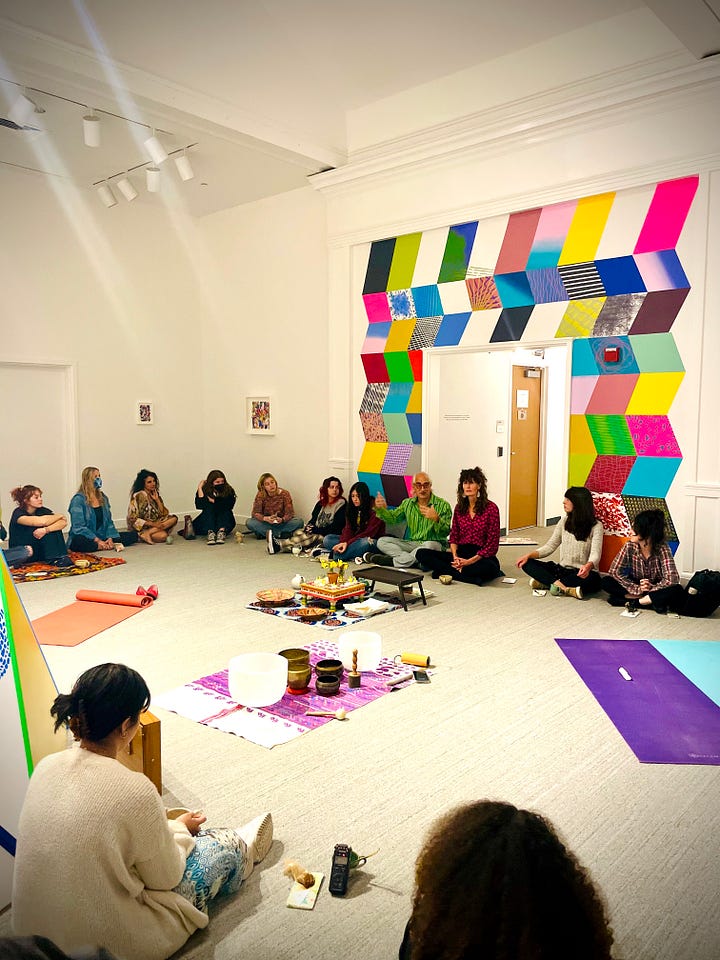 Imagine, you're at a party and someone you just meet starts questioning like it's dodgeball: "what do you do? what is your purpose? how do you make money? what is your background? what is your partner's background???" Odds are, it's not too hard to imagine this scenario. In fact, I just had this conversation. It's everywhere. It's an epidemic. It's a conversation pattern I call "search, package, and seal." 
It is a pattern that reflects specific cultural values and place – competitive, money-focused, status-driven, metropolitan… the context often being at parties. Someone starts spiraling in on your story, trying to understand you on their terms and it tends to be quite linear and predictable.
This conversation pattern serves the purpose of surface-level "getting-to-know-you" and figuring out where you fit in their pecking order – all this so that perhaps you can connect… package to package.
His intentions weren't mal-intended but it left me feeling like I was being packaged for his consumption. I unsuccessfully tried to turn it around and was happy when someone else arrived for him to search, package and seal.
I've been thinking a lot about the patterns of conversation partly because animator and artist Maya Erdelyi invited my partner John and me to activate her solo exhibit Pattern Language at the Trustman Gallery at Simmons University in Boston with a BreakBread Conversation Experience. Her playful, curious work investigates the complex kinetic and visceral language of pattern and several pieces are aptly named "Conversation #1, #2 & #3" and "Conversation Piece."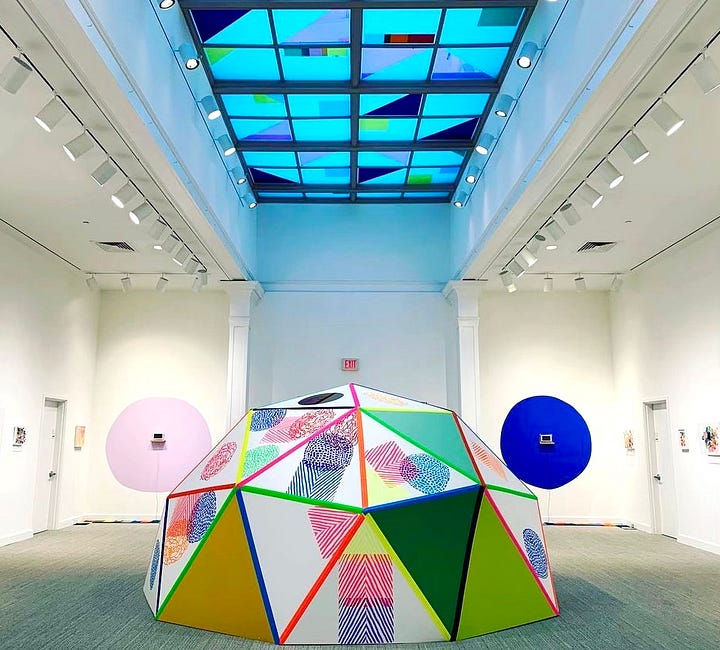 Maya invited us right when I was already thinking about patterns — nose deep in two different books,
Sand Talk
by Tyson Yunkaporta and
Plant Intelligence and the Imaginal Realm
by Stephen Harrod Buhner.
While reading both, I simultaneously arrived at sections of their books about patterns – which exactly coincides with Maya floating the idea of collaboration. Could this magical collision be part of a grand pattern? 
In Buhner's book, he talks about physical patterns in nature. For example, the pattern on a leaf is very similar to the pattern of human skin and the wing of a dragonfly as well as patterns that get created through self-organization which is something that is reflected in all beings, not just humans – plants, animals, water, air – all of which he refers to as Gaia or Earth. Physically speaking, pattern is the soup we swim in and he says it's part of how stabilization is maintained in nature. 
Ultimately, organized pattern is form, which is everywhere. For example: rainbows, sunrise and sunset, reproduction, breathing. Or manmade examples could include: exit ramps, suspension bridges, holidays…and conversation.
While reading Buhner's section on patterns, I pick up Yunkaporta's book, Sand Talk.
Yunkaporta's book is an exquisite yet playful gift of a book on Indigenous Aboriginal thinking that demands a thorough read. He writes about patterns in the context of yarning. "Yarning is more than just a story or conversation in Aboriginal culture – it is a structured cultural activity that is recognized even in research circles as a valid and rigorous methodology for knowledge production, inquiry, and transmission." 
In the yarning process, he says "people today will mostly focus on the points of connection… but the real understanding comes in the spaces in between, in the relational forces that connect and move the points…." He means when we focus beyond or in between patterns whether it be in conversation or some other expression we can start to experience the relational engine driving the whole.
And that is when nonlinear complexity has the opportunity to emerge as new understanding or "knowledge production" as Yunkaporta calls it.
I decided to try something new with my father. Conversations with him are usually stilted and predictable – an ongoing source of pain in my life. His most well-trodden conversation pattern is person #1 opens the conversation with a contribution in the form of a statement or story and person #2 replies with a parallel (and not necessarily relevant) personal story. I call it the story-stasis format where there is sharing but very little deep diving and sometimes very little listening. If he does not have a story response in his repository, he closes the door to the conversation or at worst, reacts as if being attacked. What if I try something that could subvert this pattern?
That's what I did the last time we were together. I stopped talking. I stopped trying to connect. I decided to wait for whatever wanted to arise. You could say I tried a new "listening state" – listening with grace – a non-judgmental space where I remain fully present but without an agenda and without holding some holier-than-thou position. From the outside, it looked like both of us sitting there not saying anything. What emerged was sometimes he'd flash me a funny smile that was embued with a mix of awkwardness and delight, and he even asked me a question or two about me, which has been scarce in our conversations. In our last visit of this type, he offered that he was proud of all of us (me and my 4 siblings) in our own ways – a rarely offered sentiment. 
These slight shifts in conversation moved me (and us) beyond the predictable grooves of frustration. I felt a sense of peace inside of me and we
shared
a sense of peace together, an experience that I believe will have a ripple effect.
I also understood that my usual state, laden with the desire to connect, was perhaps received as pressure and that I actually felt anxious about feeling intimate with him – so I learned something about myself. It's not that we suddenly have a wonderful relationship, but in trying this, things slowed down enough for complexity to reveal itself, and room was made for something new to emerge – something that felt good.
Yunkaporta talks about how complexity is not something that can be designed or controlled because it emerges beyond pattern – like with my father. I had to move beyond the pattern and surrender with the hope that the invisible systems running the show would either become understood or unseated.
Of course in a world where certainty sells, tried and true conversation patterns are comforting, and courageously testing the edges of those patterns for "knowledge production" or emergent wisdom can be quite unsettling. 
In the case of the "search, package and seal" conversation I had at the party, was it on my counterpart to do something different? Just like with my father, not necessarily. He was simply playing out the pattern that connects us…package to package. Again, this is not bad in and of itself – just simple and predictable without much room for inspiration, discovery or lasting connection.
What could I have done in response to being packaged? Well, once I recognized what was happening, instead of giving him the power that he comfortably took, I could have tried a myriad of things from my Mindful Conversation toolbox – as a way to subvert the pattern so emergent wisdom and even connection could peek through. For example, I could have worked with the tools: listening handles or attention or I could have worked with listening states or pace (like I did with my father). 
I won't talk about our tools right here but I will talk a little about listening states because that's what we worked with for the Tea and Conversation Experience (a version of the BreakBread Conversation Experience) at Maya's Pattern Language exhibit in Boston. 
About 30 individuals had gathered in the Trustman Gallery to experience Maya's work and join us for tea after a soul-soaring voice bath by Odeya Nini. As with all our BreakBread Conversations, we create a space of intention and safety by gathering in a circle, sharing a moment of silence and our statement of purpose and bringing each person's voice into the circle. The mood was kept light and playful and in that spirit, each person was randomly assigned one of three words – gratitude, wonder, or play. We challenged them: we all know what a state of gratitude, wonder, or play feels like –what would it be like to be in conversation and to listen with gratitude, wonder, or play? (similar to how I listened with grace) With that, we offered the group a conversation prompt and sent them off into smaller groups of 5 or 6 to have a conversation and listen with new ears in a state of gratitude, wonder, or play. 
If you want to practice shifting the conversation, try breaking the conversation pattern you're accustomed to or the package you've put yourself in.
Test the conversation by taking small steps into the unseen and unsaid, try to move beyond the pattern and see what emerges both in the conversation and in your relationship to yourself, others and the world around you. 
Conversation is not just the sum of the words we speak and certainly not the fraction of the words we actually hear. There is so much going on in conversation including gesture, body language, microexpressions, and of course our energetic bodies. And we humans are far better at "reading" all these nonverbal cues than we often realize. That's why making small, practiced energetic shifts can sometimes have startlingly real effects in shifting our conversations. When I talk about "packaging" I refer to seeing conversation simply as its "content" or data exchange. It objectifies the participants to a certain degree. When we expand our understanding and conceptualization of conversation we step into a larger flow where new understanding and relationships can emerge. Interestingly, in 2008 when I was actively creating dance theater, I made a full-length piece called Package Less – an exploration of the way we package each other into objects. I was asking, could we package less? And I ask you the same.
Let us know how it goes!